Tactical Rx specializes in crafting custom prescription shooting and safety lenses. We do one thing and we do it very well. We offer numerous polarized and Transition lens styles, do all of our tinting by hand right here in our shop, and will gladly discuss lens options to help you find the best fit for your needs. While we strongly believe that lenses are largely a matter of personal preference, there are lenses that are best suited for certain conditions and light environments. To Order Call: 888-807-5165.
Some Points:
- Tactical Rx provides the finest lenses available using our proprietary Direct Lens Technology. This allows us to put prescription lenses directly into frames with higher curvature. Over the last couple decades, we have developed a formula that accomodates for the close fit and wrap of safety and sports frames. Without the formula the prism is induced and power is increased, leading to eyestrain, poor depth perception, and poor vision in general. The formula was developed using optical principles and most importantly, real world testing. After years of research and developement we are proud to offer lenses for most curved frames with Direct Lens Technology. No inserts or adapters needed!
- Lenses costs begin at $229 for a clear or tinted, single-vision lens. There are many factors that determine the pricing of the lenses so unfortunately it's impossible to give full, accurate pricing without knowing exactly what you're looking for. We do our best to keep our prices fair, and the guideline we use is to imagine that if Tactical Rx employees were buying these on the open market, would they be able to afford them. In general, our Almost Lens prescription shooting bifocal starts at $269, our polarized and Transition lenses start at $279. These lens costs are in addition to the frame costs which start at $99.
- If a frame is ANSI z87 compliant, we will issue a safety stamp illustrating that the prescription lenses are also ANSI compliant.
Here are a few different types of lens setups we offer:
The Almost Lens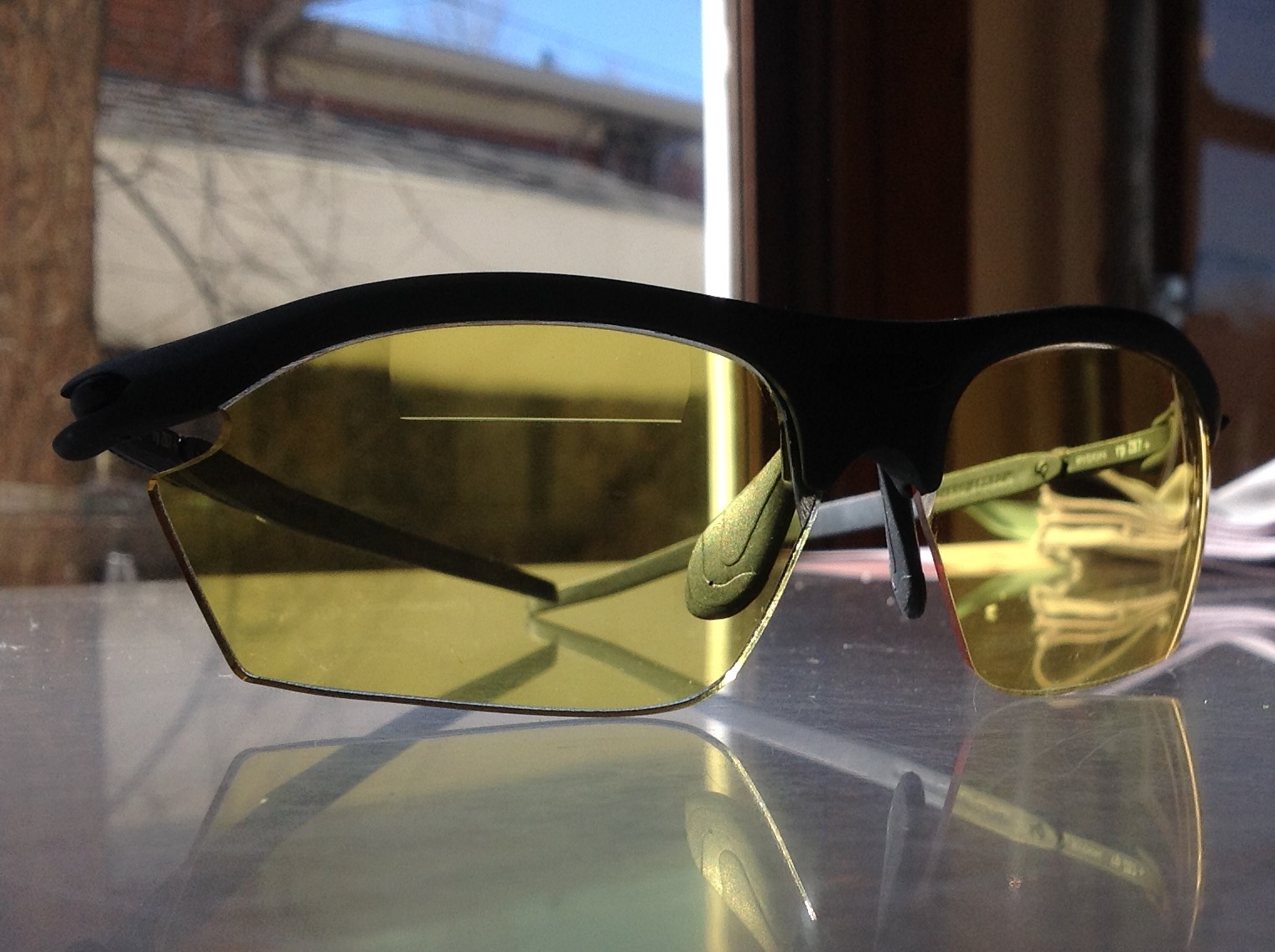 Our Almost lens is a custom positioned inverted bifocal which allows open-sight handgun or rifle shooters to bring their front sights into focus with one easy movement. If you're a shooter with a reading prescription and aren't seeing your front sights as clearly as you'd like, this is the lens for you. Shown above in the Rudy Project Rydon frame with a yellow tint.
We call it our Almost Lens, though we're not entirely sure why. When you can almost see your front sights, you need the Almost Lens. Or when you're almost hitting your target, you need the Almost Lens. Or..?
The premise is straightforward:
– We custom grind a lined-bifocal directly into the lens. A lined-bifocal is ideal because it gives you a large, single-focus area to acquire your sight picture quickly and easily. The line provides clear demarcation of the focal shift from your distance vision to your near vision.
– This bifocal is custom-placed for your specific needs. We all have different eye-dominance/shooting-hand combinations, shooting stances and positions, and of course not all frames sit the same way on different faces. We'll send you an actual frame (or a few, to try on) and a marking kit so you can show us where you need the Almost Lens to be placed.
– We'll adjust the focal distance of your standard reading prescription so it's precisely tuned for the distance of your front sights. If your Rx has already been adjusted by your eye doctor, that's fine, just make sure we know so we don't double-adjust it. The Almost Lens is advantageous over a traditional bifocal because by having it in the upper portion of the lens you move your body much less to use it and can easily maintain your shooting stance. It's superior to a progressive because there's no "searching" through the progressive range to find the right focal spot, and also because the bifocal gives a much larger field of view. If you'd like to read more about the lens, Jeff John at Guns Magazine wrote about it here.
– Most folks go with it only in their dominant eye, but some people put it in both eyes and others do one eye with the shooting bifocal above their eye and in the other eye they put a traditional lined bifocal for standard reading distance correction
– To order, the best way is to give us a call with your prescription handy. We can talk you through some frame options and get some choices sent out to you for marking.
Indoor / Nighttime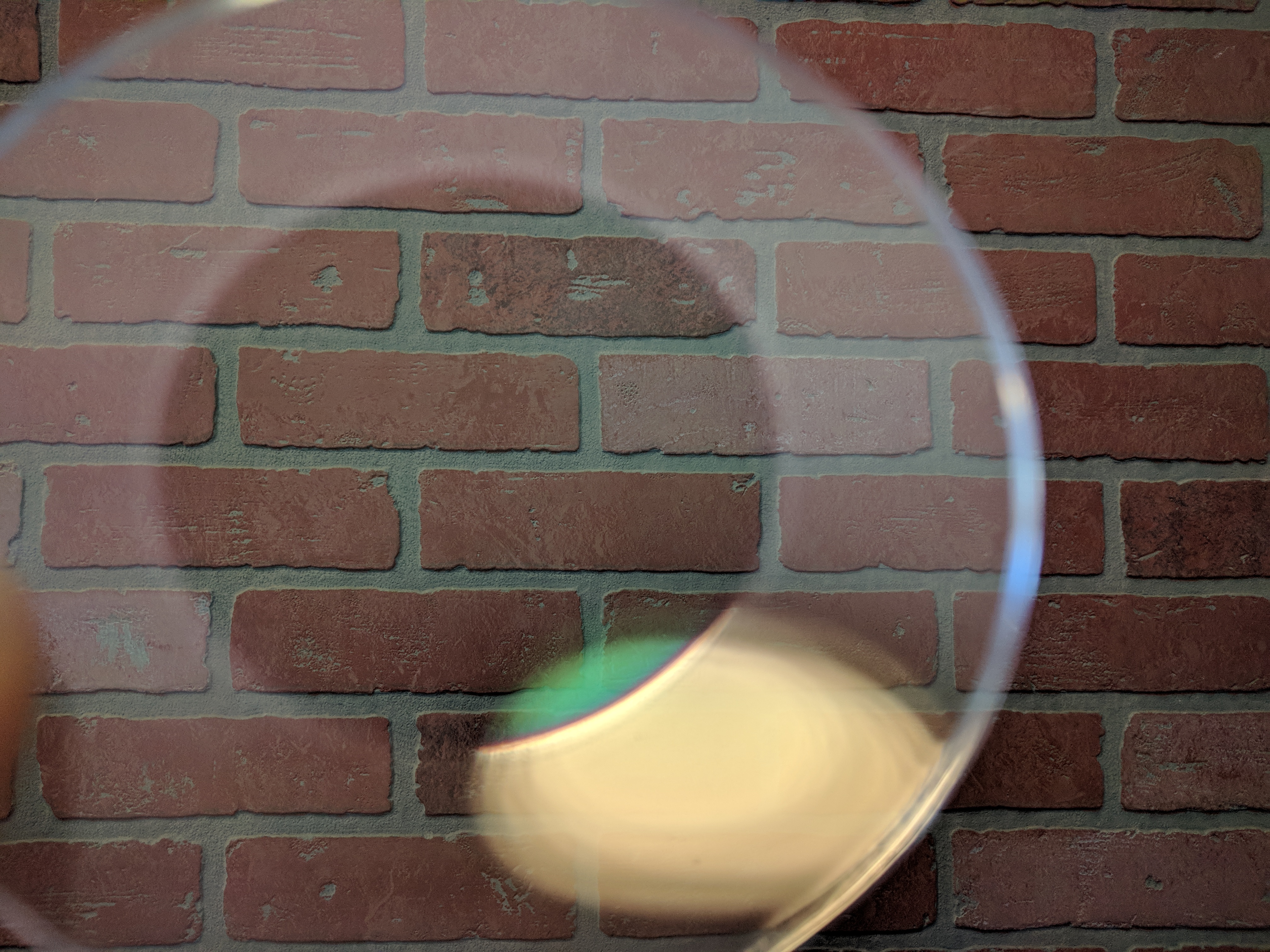 For indoor or nighttime conditions, we recommend our clear or yellow lens treated with an anti-reflective (AR) coating. A clear lens is precisely how it sounds, however, by adding the AR coat we are able to reduce the presence of distracting halo spots, reflections and other distortion caused by artificial lighting. Above you can see a perfect example of this. The sample lens has anti-reflective coating applied to the center, but not the edges. The center area is much clearer due to the AR coat suppressing the reflections bouncing off the lens from the overhead lights in our showroom. A yellow tinted lens will increase contrast (light and dark spots are more separated and easy to distinguish) without adding much darkness. Therefore yellow lenses are a great option for those who want a low light lens, but would like sharper contrast than a clear lens can provide.
Bright Sun
A quality polarized lens is essential for providing a clear, glare-free view. We have a few different colors of polarized lenses available to cover a variety of light conditions and personal preference.
Polarized Gray
Polarized gray provides 85% light blockage and is a great choice for those that want a dark sunglass lens to be primarily used in for bright sunny conditions. We can also increase the light blockage to 90% for an extra dark sunglass lens if you'd like, but 85% is plenty dark for most people.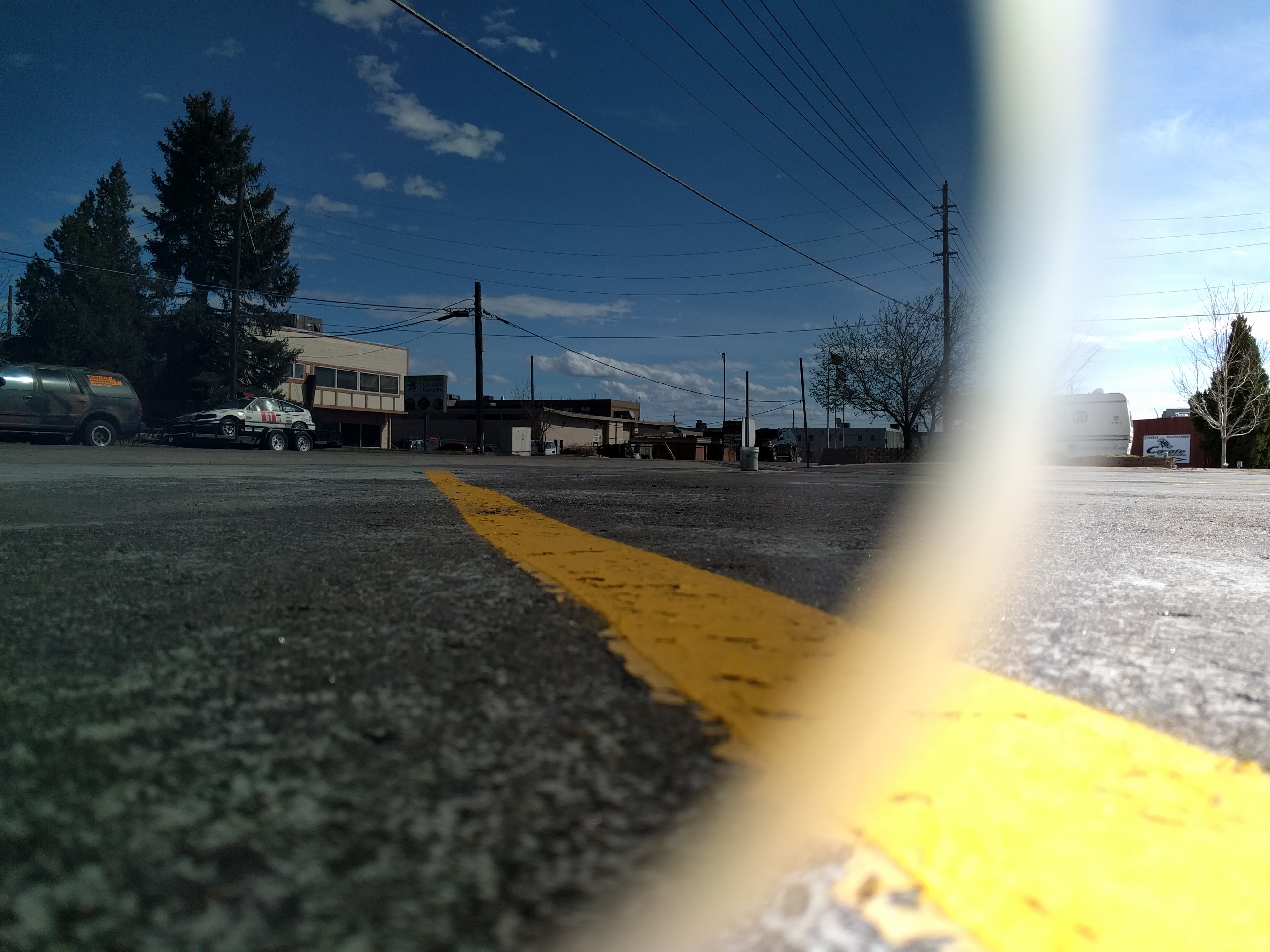 Polarized Brown
Our polarized brown provides 80% light blockage and is well suited for a variety of light conditions: from overcast to bright and sunny. The brown tint is also advantageous for shooters as it provides higher contrast than gray lenses which makes fine details easier to detect and track.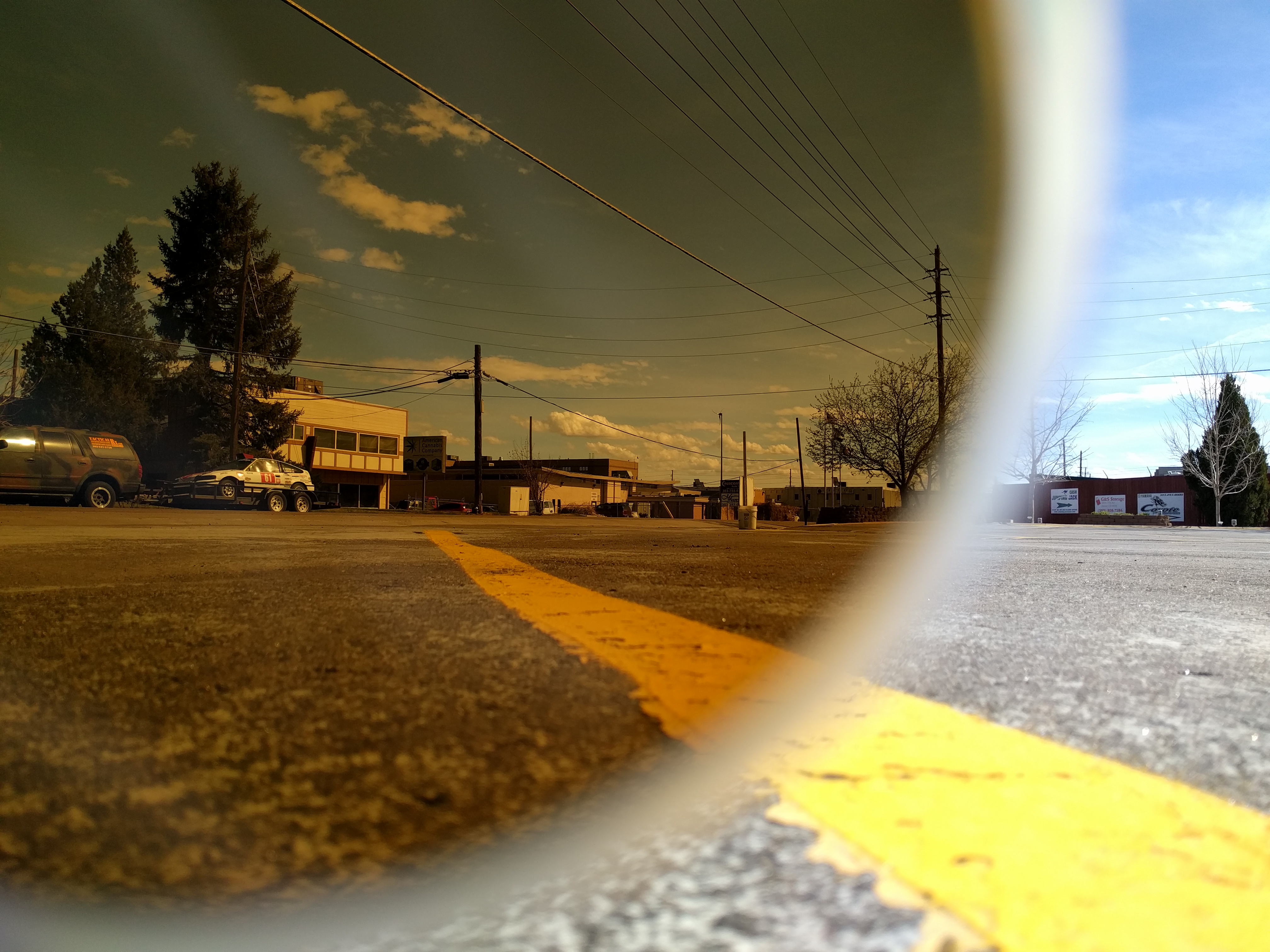 Polarized Rose-Copper
The polarized rose-copper is our lightest polarized sunglass lens at 75% light blockage. Like the brown they also provide higher contrast than gray lenses and preform well in a range of light conditions from overcast to sunny. These lenses are great for trap shooters as they turn the light blue sky into a darker more vibrant blue which makes clays easier to track. The reddish tint is also helpful when shooting against a green forrested or grassy background as the green becomes darker which allows other colored objects to become more noticable.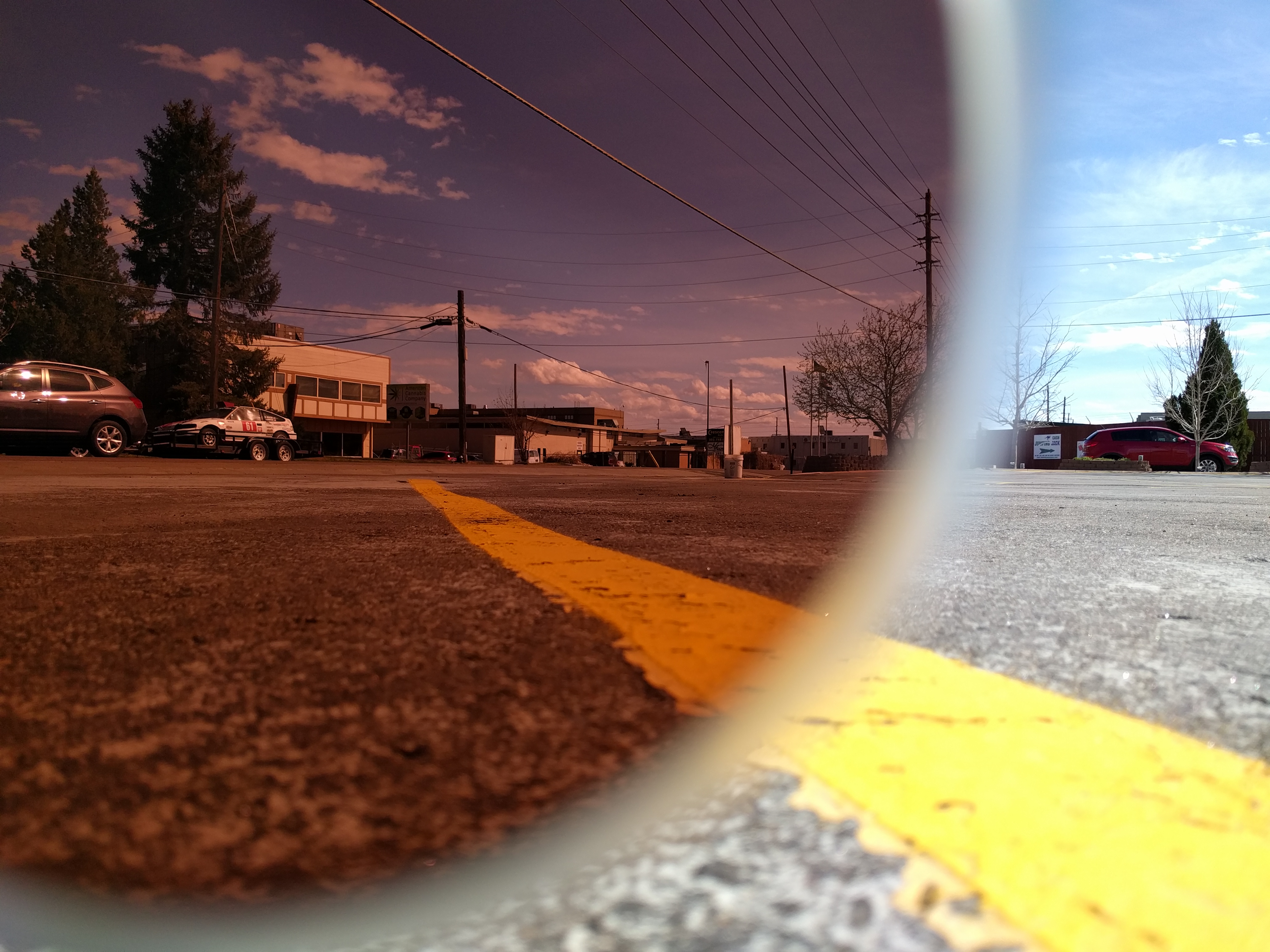 Variable Conditions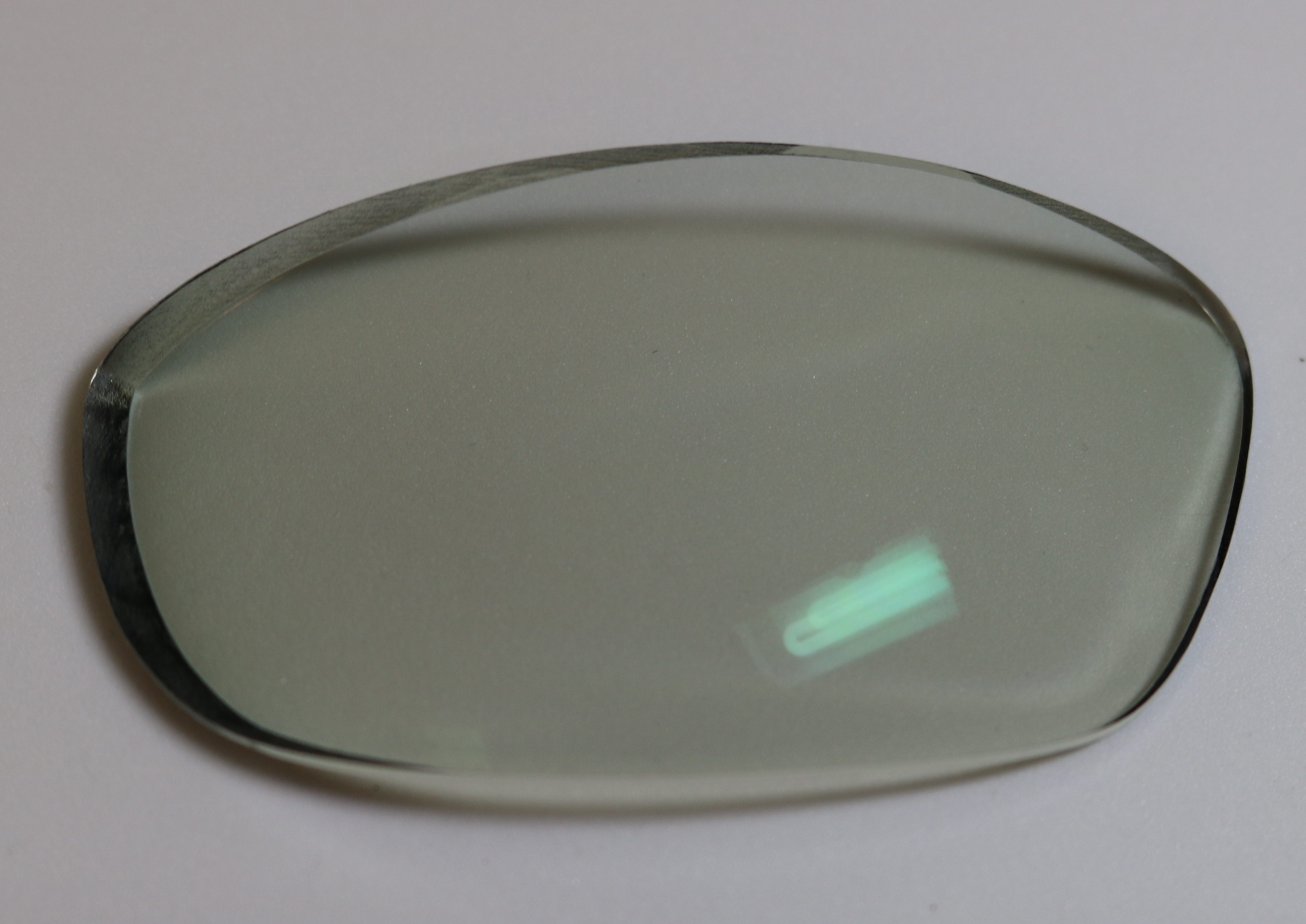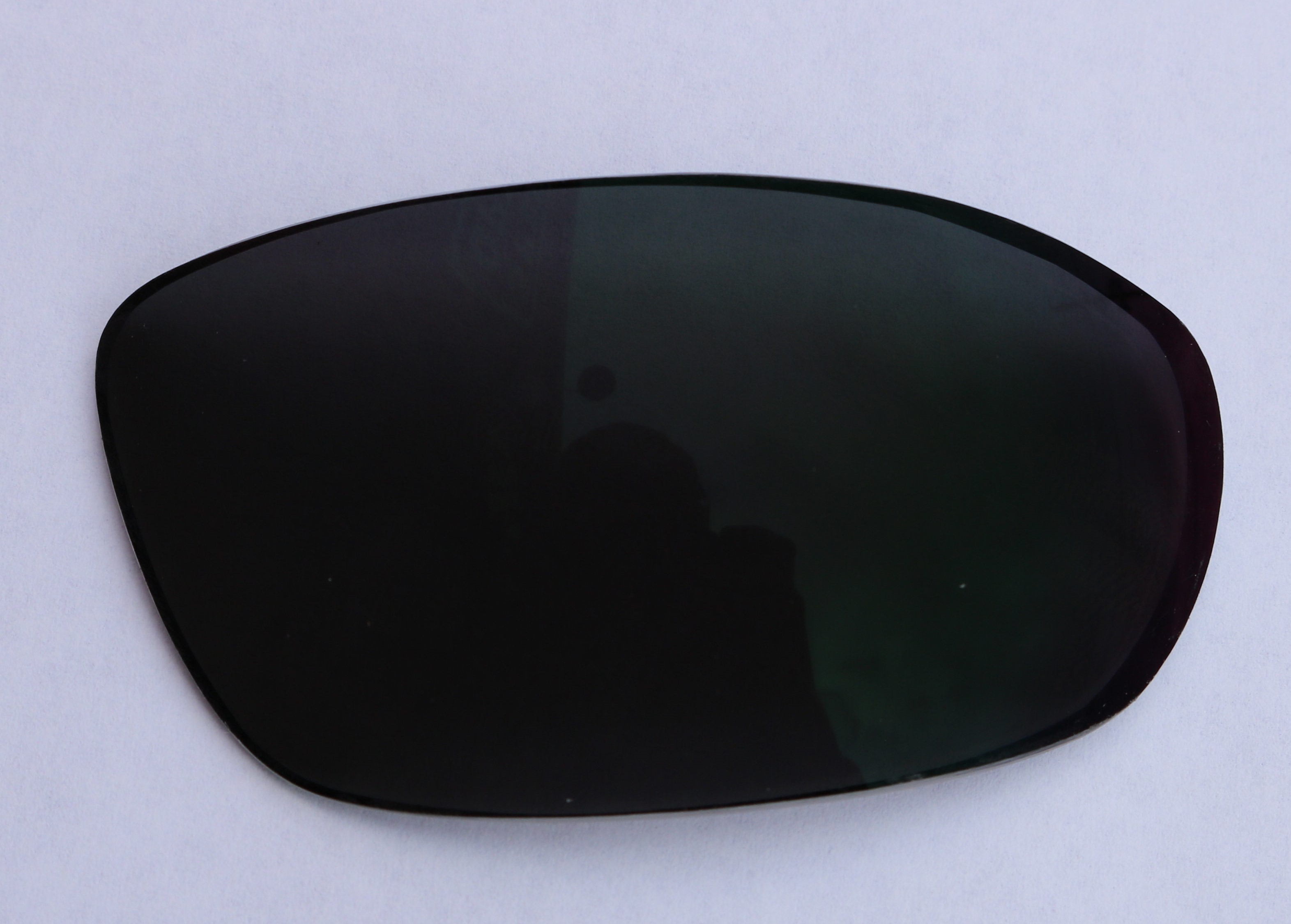 In lower light conditions such as early morning, late evening, nighttime and extremely overcast days, a full, sunglass-grade tint is too dark. For these conditions, we recommend our Transitions XtrActive lens. Beginning with a nearly imperceptible base of grey and reacting with UV light to achieve varying levels of tint, the lens is as fully functional in the dead of night as it is in bright afternoon sun, making it the most versatile lens on the market. **Please note, Transitions lenses require one to two minutes to change from dark to light (and vice-versa) so if you're in a situation where you're coming from bright sun to a dim, indoor environment where you immediately require a clear lens, the Transitions are not that lens.**
How We Make Them
Each prescription lens we make is crafted by hand, with attention and care, right here in our shop. The process uses various proprietary techniques and passes though multiple people and steps along its path to from the point of order to when it arrives at your door. After we take the lens order from you, the next step is for us to get the lens materials from which we'll grind your lenses. We source our lens materials from some of the best laboratories in the country, using different labs depending on the specific, unique requirements of each prescription, lens and frame combination. In order to determine these specs, Bret, the owner and Master Lenscrafter, sits down at his desk with paper and pen to apply the optical formulas and make the proper adjustments to ensure that curved, prescription lens of the sport frame will provide clear, distortion-free optics throughout the lens, including the periphery. This is the most important step in the process. (It is, naturally, double top-secret and this is only a mock-up of our Mt. Falcon lens pattern to suggest the measurements and diagrams Bret makes during this process.)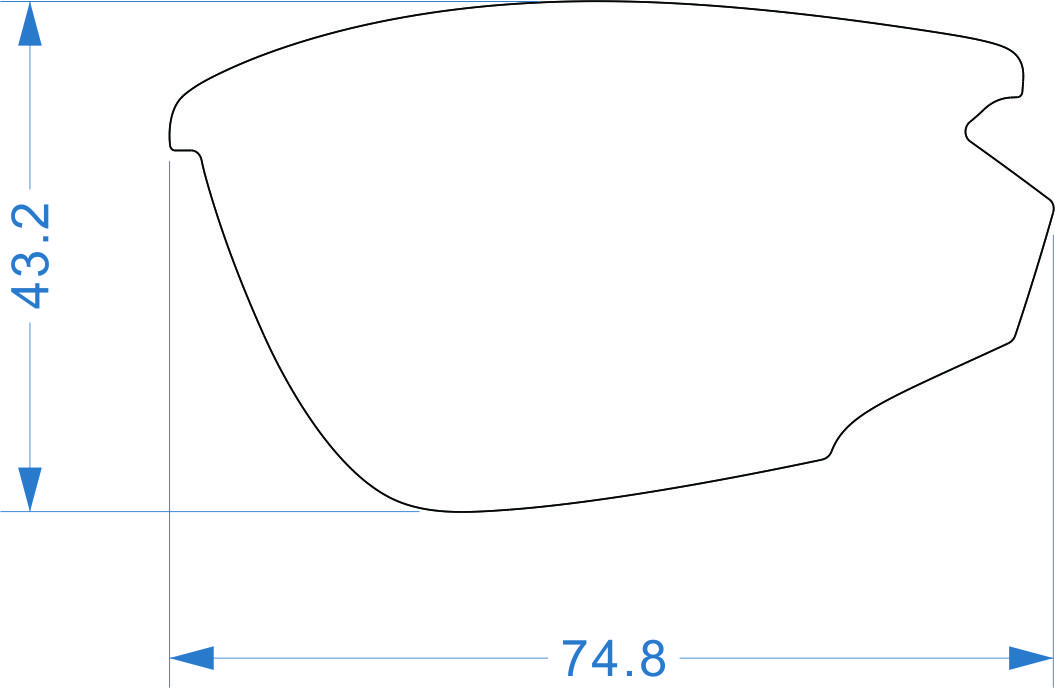 Next, the lens materials arrive in large-format blanks which we then custom grind into the final lens shapes you'll ultimately see when the glasses are finished and in your hands. They arrive like this Polar Rose-Copper/Blue Flash Mirror sample :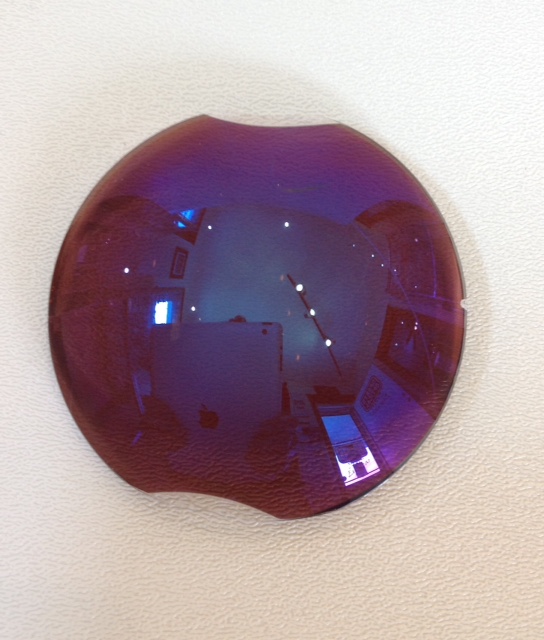 And then we grind them. This is the loud part, and the part that sprays polycarbonate lens dust all over our shop and why people always think we came out of the snow. It's also the part of the process that lets us craft fully-custom lenses with complete control over the lens styles, shapes, and optics. It is also the fun part and an aspect of our lenses of which we're quite proud. We have a physical connection with our lenses and our product that other sunglass companies who craft prescription lenses simply don't have. No one else in the world makes custom sport lenses this way.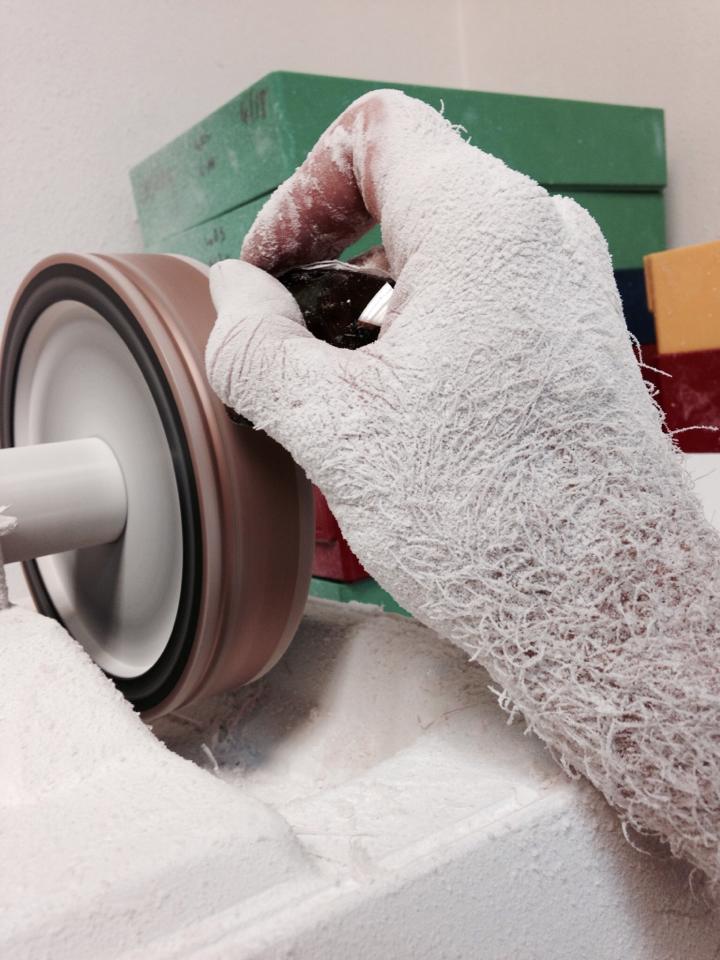 While Bret or his son Ian, who is apprenticing here at Sports Optical, are the only ones who actually craft the lenses, the rest of us step up to clean, custom-tint and hand-polish the lenses once they've been cut. At this step we do a final inspection for quality, looking for any lens aberrations or any other issues that might otherwise make us hold onto an order and remake a lens. We do our best to ship a set of glasses only if it's perfect. Final Step: Something like this…